The rich culture of the desert city of Dubai is clearly engraved on its ancient Arabian heritage; the fast development outcome is a modern technology with cosmopolitan luxury. We pick you up from your hotel, and drive through the spectacular Sheikh Zayed Road amongst the most beautiful Sky scrapers in Dubai. The First stop in this tour is the landmark of Dubai, Burj AL Arab Hotel for photos from outside! We proceed on to the so-called Majles Gurfa, an old house, built by the past ruler of Dubai H.H. Sheikh Rasheed Al Maktum back in the 50th of the last century, in the outskirts of the old Dubai and used as summer residence as it was overlooking the sea. Another highlight , strongly connect you to the rich and diverse past of the people of Dubai, in which you can go back more than 1200 year deep in the history. Excavated in the last 40 years and opened to the visitors recently, Jumeirah archeological site dates back to the Abbasids dynasty Pass by, the magnificent piece of Art, Jumeirah Mosque, built on the typical Egyptian Fatimid construction style. Drive past the old part of the city (AL Bastakia) and watch the old wind towered-houses to reach the most important high light of the tour, have a walk through the narrow allies of the old town , and pay a visit to the National Museum of Dubai housed in AL Fahidi Fort (a 200-year-old structure). After enjoying the visit in the Museum, you can try the traditional way of crossing the Creek with the so-called ( Abra ), the water taxi, and then roll in the traditional Markets in the old town and visit the spice Souk, and the world biggest Gold Souk. Drive Back to your respective Hotels. Duration: 4-5 Hours
A Journey through the Past
The rich culture of the desert city of Dubai is clearly engraved on its ancient Arabian heritage; the fast development outcome is a modern technology with cosmopolitan luxury.
We pick you up from your hotel, and drive through the spectacular Sheikh Zayed Road amongst the most beautiful Sky scrapers in Dubai.
The First stop in this tour is the landmark of Dubai, Burj AL Arab Hotel for photos from outside!
We proceed on to the so-called Majles Gurfa, an old house, built by the past ruler of Dubai H.H. Sheikh Rasheed Al Maktum back in the 50th of the last century, in the outskirts of the old Dubai and used as summer residence as it was overlooking the sea.
Another highlight , strongly connect you to the rich and diverse past of the people of Dubai, in which you can go back more than 1200 year deep in the history. Excavated in the last 40 years and opened to the visitors recently, Jumeirah archeological site dates back to the Abbasids dynasty
Pass by, the magnificent piece of Art, Jumeirah Mosque, built on the typical Egyptian Fatimid construction style.
Drive past the old part of the city (AL Bastakia) and watch the old wind towered-houses to reach the most important high light of the tour, have a walk through the narrow allies of the old town , and pay a visit to the National Museum of Dubai housed in AL Fahidi Fort (a 200-year-old structure).
After enjoying the visit in the Museum, you can try the traditional way of crossing the Creek with the so-called ( Abra ), the water taxi, and then roll in the traditional Markets in the old town and visit the spice Souk, and the world biggest Gold Souk.
Drive Back to your respective Hotels.
Duration: 4-5 Hours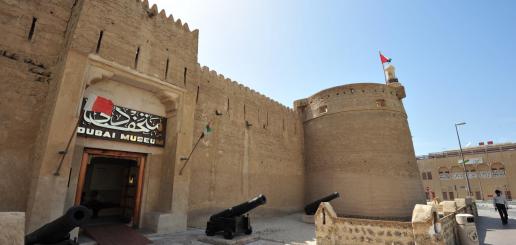 Personnalized experiences
A local guide
On-demand quotation