Get away from the touristic area and Experience the Real Mexico by living the Best of Yucatan in a 3 days, 2 nights fantastic Tour combining the Best Culture & Nature The Colonial City of Merida, a very Typical Mexican city with its Main Square where locals gather and enjoy some of the local street snacks as "elotes" or "marquesitas". Visit the XVI Century Cathedral, the First in America main land. Admire the magnificent murals and portraits at the Governor´s Palace. Chichen Itza, Impressive Monument of 2 Great Cultures of America: Maya & Toltec. One of the 7 Wonders of the world: Admire the Magnificent Pyramid of Kukulcan, The largest Mayan Ball Game in the World, The Sacred Cenote, The Temple of the Skulls, The Observatory and more… Izamal has been denominated as a Magical Town by the Mexican Tourism Board as it preserves huge Ancient Mayan Pyramids among the Colonial Buildings and the XVL Century Church dedicated to our Lady of Izamal and has become the most important Pilgrim Place for the whole peninsula of Yucatan. The Center of town is all painted in Yellow to honour the Vatican and the Church has the biggest atrium in America. Hacienda Sotuta de Peón, a trip to the past where the Henequen was known as the "Green Gold" and brought prosperity to Yucatan. Learn the traditional process of Henequen. Ride through the Henequen plantations pulled by mules. Get to a beautiful Cenote and swim at the crystal clear waters of the underground. The Natural Reserve of Celestun is a Natural Shelter for many Bird species such as Cormorans, Pelicans, Herins, and the Pink Flamingos who come to these lowlands to feed and birth among the Mangroves and inlets. Me, your Personal and Private Guide will be there to give you full explanations about every place we visit, always flexible to keep the itinerary at your own pace and rhythm and to make sure you will have the best day of your Vacations. Duration: 3 days Comment: *We can also adjust the length of the tour and pick up times according to your wishes. ITINERARY: Day 1: ? Pick up at your Hotel or Meeting Point ? Transfer to the Archaeological Mayan Site of Chichen Itza, Wonder of the World ? Guided visit in Chichen Itza ? Lunch time ? We´ll go to the Colonial Magical Town of Izamal ? Visit the impressive Convent and the Pyramids right in the center of the village ? Transfer to the Colonial City of Merida, Capital of Yucatan State ? Check in hotel in Merida ? Free evening to enjoy Merida Downtown Day 2: ? This morning we´ll drive to the Gulf of Mexico into the Celestun Natural Reserve ? We´ll get into a Motor boat tour to see the Pink Flamingos and other species at Celestun Natural Reserve ? Lunch time at the white beaches of Celestun. Chance to swim in the ocean ? Go back to Merida ? Walking guided Tour at Downtown Merida ? Free evening in Merida Day 3: ? Transfer to the Hacienda Sotuta de Peón ? Guided Tour at the Hacienda Sotuta de Peón & Cenote Swimming ? Lunch time at the hacienda ? Transfer to your hotel in Cancun / Riviera Maya ? End of Services What´s included ? Private Certified Guide-Driver in English, French & Spanish with full personal expenses ? 1st Class private Van with A/C ? Private Motor boat Tour at Celestun Natural Reserve ? Parking lots and toll roads ? Travelers Insurance on board ? Purified bottled Water Does Not Include: ? Entrance to Chichen Itza Archaeological Zone ? Accommodation ? Tour at Hacienda Sotuta de Peon ? Meals and beverages ? Personal expenses
Best of Yucatan – 3 Days VIP Private Tour
Get away from the touristic area and Experience the Real Mexico by living the Best of Yucatan in a 3 days, 2 nights fantastic Tour combining the Best Culture & Nature
The Colonial City of Merida, a very Typical Mexican city with its Main Square where locals gather and enjoy some of the local street snacks as "elotes" or "marquesitas". Visit the XVI Century Cathedral, the First in America main land. Admire the magnificent murals and portraits at the Governor´s Palace.
Chichen Itza, Impressive Monument of 2 Great Cultures of America: Maya & Toltec. One of the 7 Wonders of the world:
Admire the Magnificent Pyramid of Kukulcan, The largest Mayan Ball Game in the World, The Sacred Cenote, The Temple of the Skulls, The Observatory and more…
Izamal has been denominated as a Magical Town by the Mexican Tourism Board as it preserves huge Ancient Mayan Pyramids among the Colonial Buildings and the XVL Century Church dedicated to our Lady of Izamal and has become the most important Pilgrim Place for the whole peninsula of Yucatan.
The Center of town is all painted in Yellow to honour the Vatican and the Church has the biggest atrium in America.
Hacienda Sotuta de Pe?n, a trip to the past where the Henequen was known as the "Green Gold" and brought prosperity to Yucatan. Learn the traditional process of Henequen. Ride through the Henequen plantations pulled by mules. Get to a beautiful Cenote and swim at the crystal clear waters of the underground.
The Natural Reserve of Celestun is a Natural Shelter for many Bird species such as Cormorans, Pelicans, Herins, and the Pink Flamingos who come to these lowlands to feed and birth among the Mangroves and inlets.
Me, your Personal and Private Guide will be there to give you full explanations about every place we visit, always flexible to keep the itinerary at your own pace and rhythm and to make sure you will have the best day of your Vacations.
Duration: 3 days
Comment: *We can also adjust the length of the tour and pick up times according to your wishes.
ITINERARY:
Day 1:
? Pick up at your Hotel or Meeting Point
? Transfer to the Archaeological Mayan Site of Chichen Itza, Wonder of the World
? Guided visit in Chichen Itza
? Lunch time
? We´ll go to the Colonial Magical Town of Izamal
? Visit the impressive Convent and the Pyramids right in the center of the village
? Transfer to the Colonial City of Merida, Capital of Yucatan State
? Check in hotel in Merida
? Free evening to enjoy Merida Downtown
Day 2:
? This morning we´ll drive to the Gulf of Mexico into the Celestun Natural Reserve
? We´ll get into a Motor boat tour to see the Pink Flamingos and other species at Celestun Natural Reserve
? Lunch time at the white beaches of Celestun. Chance to swim in the ocean
? Go back to Merida
? Walking guided Tour at Downtown Merida
? Free evening in Merida
Day 3:
? Transfer to the Hacienda Sotuta de Pe?n
? Guided Tour at the Hacienda Sotuta de Pe?n & Cenote Swimming
? Lunch time at the hacienda
? Transfer to your hotel in Cancun / Riviera Maya
? End of Services
What´s included
? Private Certified Guide-Driver in English, French & Spanish with full personal expenses
? 1st Class private Van with A/C
? Private Motor boat Tour at Celestun Natural Reserve
? Parking lots and toll roads
? Travelers Insurance on board
? Purified bottled Water
Does Not Include:
? Entrance to Chichen Itza Archaeological Zone
? Accommodation
? Tour at Hacienda Sotuta de Peon
? Meals and beverages
? Personal expenses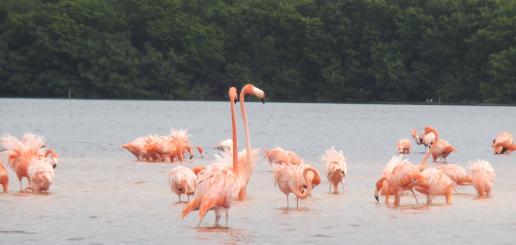 Personnalized experiences
A local guide
On-demand quotation