Day 2: – Giza pyramids. and Sakkara Necropolis, Memphis: Breakfast at the hotel is followed by a full day tour. In the morning you will be taken to Sakkara to see the very first pyramid ever built; the Step Pyramid of Djoser. You will then be able to marvel at the Pyramid Texts inside the Pyramid of Teti before heading off to the ancient capital of Egypt: Memphis. The Colossus of Ramses II dominates the museum here; do not forget your camera! Have delicious lunch(chicken or beef ) as you order After lunch, at a local restaurant, you will be driven to see the Pyramids of Giza and the Great Sphinx: the most famous monuments of not only ancient Egypt, but of the entire ancient world! These massive stone structures were built around 4,500 years ago on a rocky desert plateau close to the Nile. After the visit, you will be taken to the Papyrus Institute where you will see how the ancient Egyptians made this forerunner to today's paper; have a go at making it yourself; and get the opportunity to look at some fantastic examples of papyrus art, with no obligation to buy. After this amazing trip through Egypt's pharaonic past you will be driven back to your hotel Day 3, Cairo – museum- Coptic Cairo Breakfast at the hotel is followed by another full day tour, but this time you will spent the forenoon at the Egyptian Museum: gaze at the wonders of King Tutankhamen, including his golden death mask; stare upon the mummies of some of Egypt's ancient pharaohs (optional); lose yourself in the many rooms and galleries, where thousands of artefacts are awaiting your visit. After your lunch at local( mix grille) will be taken on a tour of Cairo famous Churches, including: The Hanging Church and the Church of St. George the Martyr, 2 churches built into the walls of the Fort of Babylon and its remains could be Cairo's oldest structures; and the Church of Abu Serga (St. Sergius), where, it is said, the Holy Family took shelter in a cave, with the church being erected her to commemorate this. This whole area is a world famous destination for Pilgrims. Day 4: , Luxor- West Bank After breakfast or breakfast box then you will be transferred to Cairo airport For your domestic flight to Luxor. Enjoy a tour to the west bank of Luxor, visit the Valley of the Kings including three tombs and the queen Hatshepsut's temple, at the end visit the big statues to Memnon (colossi of Memnon), lunch on board, then free, meals and overnight on board in Luxor. You will stay the next 4 days in your luxury Nile cruise. All meals are open buffet . Day 5: , East bank ,karnak & Luxor temple A new day and your first breakfast on board; then it is time to visit the magnificent Karnak and Luxor Temples. Once your visit to these ancient Theban Temples is complete you will return to the boat for your lunch, and then you can watch as it departs Luxor and sails for Esna. As the Nile flows gently underneath you, dinner will be served. Day 6: , Edfu & KOmobo temples- Carriage You can enjoy an early breakfast, while the cruise boat crosses the Esna lock to the city of Esna. Once the boat is moored you will visit the Esna Temple, which is located in the centre of the town, and is dedicated to the gods Khnum, Neith and Heka. After the visit you will be taken back to the boat for your lunch while it sails onward to Edfu, home of the best preserved temple in Egypt: the Temple of Horus. After your visit to this superb temple you will be taken back to the boat in plenty of time before it departs Edfu, dinner being served as it sails majestically towards Kom Ombo enjoy at night Lovely belly dance and Tanora show Day7:, Aswan ,isis temple Your last day of sailing upstream starts with breakfast, and then a visit to the Temple of Kom Ombo, dedicated to the gods Horus and Sobek. Afterwards it is back to the boat for lunch and the sail to Aswan. Once ashore you will be driven to see the High Dam, the worlds largest rock filled dam, and the Temple of Philae, moved to the island of Agilika after the waters of Lake Nasser flooded its original location. It is then back to the boat for your dinner Day8: Aswan -Cairo After breakfast on your cruise on the cruise check out and fly back to Cairo For your hotel. Day 9 : Cairo Visit the gates of Cairo and Elmoaz street and khan Elkhalili Bazzars Day 10,, final departure according to your flight details
Egypt Nile cruise holiday
Day 2: – Giza pyramids. and Sakkara Necropolis, Memphis:
Breakfast at the hotel is followed by a full day tour. In the morning you will be taken to Sakkara to see the very first pyramid ever built; the Step Pyramid of Djoser. You will then be able to marvel at the Pyramid Texts inside the Pyramid of Teti before heading off to the ancient capital of Egypt: Memphis. The Colossus of Ramses II dominates the museum here; do not forget your camera! Have delicious lunch(chicken or beef ) as you order
After lunch, at a local restaurant, you will be driven to see the Pyramids of Giza and the Great Sphinx: the most famous monuments of not only ancient Egypt, but of the entire ancient world! These massive stone structures were built around 4,500 years ago on a rocky desert plateau close to the Nile. After the visit, you will be taken to the Papyrus Institute where you will see how the ancient Egyptians made this forerunner to today's paper; have a go at making it yourself; and get the opportunity to look at some fantastic examples of papyrus art, with no obligation to buy.
After this amazing trip through Egypt's pharaonic past you will be driven back to your hotel
Day 3, Cairo – museum- Coptic Cairo
Breakfast at the hotel is followed by another full day tour, but this time you will spent the forenoon at the Egyptian Museum: gaze at the wonders of King Tutankhamen, including his golden death mask; stare upon the mummies of some of Egypt's ancient pharaohs (optional); lose yourself in the many rooms and galleries, where thousands of artefacts are awaiting your visit. After your lunch at local( mix grille)
will be taken on a tour of Cairo famous Churches, including: The Hanging Church and the Church of St. George the Martyr, 2 churches built into the walls of the Fort of Babylon and its remains could be Cairo's oldest structures; and the Church of Abu Serga (St. Sergius), where, it is said, the Holy Family took shelter in a cave, with the church being erected her to commemorate this. This whole area is a world famous destination for Pilgrims.
Day 4: , Luxor- West Bank
After breakfast or breakfast box then you will be transferred to Cairo airport
For your domestic flight to Luxor. Enjoy a tour to the west bank of Luxor, visit the Valley of the Kings including three tombs and the queen Hatshepsut's temple, at the end visit the big statues to Memnon (colossi of Memnon), lunch on board, then free, meals and overnight on board in Luxor.
You will stay the next 4 days in your luxury Nile cruise. All meals are open buffet .
Day 5: , East bank ,karnak & Luxor temple
A new day and your first breakfast on board; then it is time to visit the magnificent Karnak and Luxor Temples. Once your visit to these ancient Theban Temples is complete you will return to the boat for your lunch, and then you can watch as it departs Luxor and sails for Esna. As the Nile flows gently underneath you, dinner will be served.
Day 6: , Edfu & KOmobo temples- Carriage
You can enjoy an early breakfast, while the cruise boat crosses the Esna lock to the city of Esna. Once the boat is moored you will visit the Esna Temple, which is located in the centre of the town, and is dedicated to the gods Khnum, Neith and Heka. After the visit you will be taken back to the boat for your lunch while it sails onward to Edfu, home of the best preserved temple in Egypt: the Temple of Horus. After your visit to this superb temple you will be taken back to the boat in plenty of time before it departs Edfu, dinner being served as it sails majestically towards Kom Ombo enjoy at night
Lovely belly dance and Tanora show
Day7:, Aswan ,isis temple
Your last day of sailing upstream starts with breakfast, and then a visit to the Temple of Kom Ombo, dedicated to the gods Horus and Sobek. Afterwards it is back to the boat for lunch and the sail to Aswan. Once ashore you will be driven to see the High Dam, the worlds largest rock filled dam, and the Temple of Philae, moved to the island of Agilika after the waters of Lake Nasser flooded its original location. It is then back to the boat for your dinner
Day8: Aswan -Cairo
After breakfast on your cruise on the cruise check out and fly back to Cairo
For your hotel.
Day 9 : Cairo
Visit the gates of Cairo and Elmoaz street and khan Elkhalili Bazzars
Day 10,, final departure according to your flight details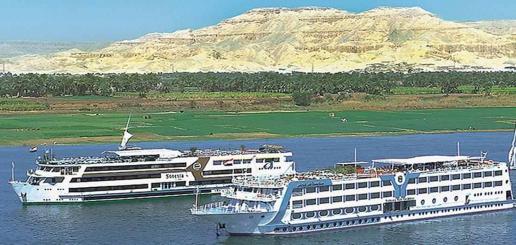 Personnalized experiences
A local guide
On-demand quotation