Golan Heights Tour Israel Daily Group Tours by Compass Travel Israel in English, Spanish, Russian, French, German – including pick up and return service from Tel Aviv, Herzliya, Netanya and Jerusalem. Golan Heights Tour Departure: Wednesday and Sundays PICK-UP TIME FROM HOTELS: Jerusalem hotels – from 05:50 – 06:00 Herzliya hotels – from 07:00 – 07:15 Tel-Aviv hotels – from 07:15 – 07:30 Netanya hotels – from 07:45 – 08:00 Golan Heights Tour Short description / Itinerary Golan Heights Tour We drive north along the coastal road and have a short stop at overlook of Megiddo. Proceed through the Jordan Valley, stop at the Baptismal site on the Jordan River. Ascend to the Golan Heights with an overview from Hammat Gader of the triangular border with Syria, Jordan and Israel. Onwards to the city of Katzrin, the Talmudic capital of the Golan. Visit the ancient sinagogue of Katzrin. Ascend Mt. Bental, overlook Kuneitra Valley and stop at former Syrian fortification. Return to pick up point. Golan Heights Tour is available on Tuesdays and Fridays in English from Tel Aviv, Herzliya, Netanya and Jerusalem. To book the tour please contact us via mail info@compasstravel.co.il or call +972 58 58 58 553 Recommended for this tour: Comfortable walking shoes, hats. Golan Heights Tour highlights Jordan Valley Jordan River Hammat Gader Golan Heights Armagedon Katzrin Megiddo Golan Heights Tour Megiddo is mentioned twelve times in the Old Testament, ten times in reference to the ancient city of Megiddo, and twice with reference to « the plain of Megiddo », most probably simply meaning « the plain next to the city ». None of these Old Testament passages describes the city of Megiddo as being associated with any particular prophetic beliefs. The one New Testament reference to the city of Armageddon found in Revelation 16:16 in fact also makes no specific mention of any armies being predicted to one day gather in this city, but instead seems to predict only that « they will gather the kings together to …. Armageddon ». The text does however seem to imply, based on the text from the earlier passage of Revelation 16:14, that the purpose of this gathering of kings in the « place called Armageddon » is « for the war of the great day of God, the Almighty ». Because of the seemingly highly symbolic and even cryptic language of this one New Testament passage, some Christian scholars conclude that Mount Armageddon must be an idealized location. Golan Heights Tour included Hotel Pick up and return service Professional tour guide in your language Transportation – luxury air-conditioned minibus Entry fees according to our itinerary Golan Heights Tour excluded Lunch To book the tour contact us via mail info@compasstravel.co.il
Golan Heights Tour
Golan Heights Tour
Israel Daily Group Tours by Compass Travel Israel in English, Spanish, Russian, French, German – including pick up and return service from Tel Aviv, Herzliya, Netanya and Jerusalem.
Golan Heights Tour
Departure: Wednesday and Sundays
PICK-UP TIME FROM HOTELS:
Jerusalem hotels – from 05:50 – 06:00
Herzliya hotels – from 07:00 – 07:15
Tel-Aviv hotels – from 07:15 – 07:30
Netanya hotels – from 07:45 – 08:00
Golan Heights Tour
Short description / Itinerary
Golan Heights Tour We drive north along the coastal road and have a short stop at overlook of Megiddo. Proceed through the Jordan Valley, stop at the Baptismal site on the Jordan River. Ascend to the Golan Heights with an overview from Hammat Gader of the triangular border with Syria, Jordan and Israel. Onwards to the city of Katzrin, the Talmudic capital of the Golan. Visit the ancient sinagogue of Katzrin. Ascend Mt. Bental, overlook Kuneitra Valley and stop at former Syrian fortification.
Return to pick up point.
Golan Heights Tour is available on Tuesdays and Fridays in English from Tel Aviv, Herzliya, Netanya and Jerusalem.
To book the tour please contact us via mail info@compasstravel.co.il or call +972 58 58 58 553
Recommended for this tour: Comfortable walking shoes, hats.
Golan Heights Tour highlights
Jordan Valley
Jordan River
Hammat Gader
Golan Heights
Armagedon
Katzrin
Megiddo
Golan Heights Tour Megiddo is mentioned twelve times in the Old Testament, ten times in reference to the ancient city of Megiddo, and twice with reference to « the plain of Megiddo », most probably simply meaning « the plain next to the city ». None of these Old Testament passages describes the city of Megiddo as being associated with any particular prophetic beliefs. The one New Testament reference to the city of Armageddon found in Revelation 16:16 in fact also makes no specific mention of any armies being predicted to one day gather in this city, but instead seems to predict only that « they will gather the kings together to …. Armageddon ». The text does however seem to imply, based on the text from the earlier passage of Revelation 16:14, that the purpose of this gathering of kings in the « place called Armageddon » is « for the war of the great day of God, the Almighty ». Because of the seemingly highly symbolic and even cryptic language of this one New Testament passage, some Christian scholars conclude that Mount Armageddon must be an idealized location.
Golan Heights Tour included
Hotel Pick up and return service
Professional tour guide in your language
Transportation – luxury air-conditioned minibus
Entry fees according to our itinerary
Golan Heights Tour excluded
Lunch
To book the tour contact us via mail info@compasstravel.co.il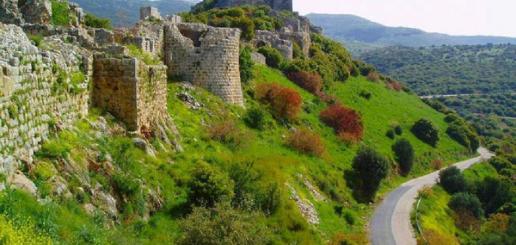 Personnalized experiences
A local guide
On-demand quotation