DAY 1 : ANTANANARIVO / ANTSIRABE We leave Tana in the morning accompanied by our guide for the next Antsirabe RN 7 through small villages typical house in the highlands red soil and rice terraces . Stop in the small town of Ambatolampy , visit a craft workshop foundry . Lunch then drive to Antsirabe, Madagascar Vichy spa town center of Malagasy handicrafts . Opportunity to visit a workshop and stone embroidery. Proposed hotel « Le chambre des voyageur » DAY 2: ANTSIRABE / MIANDRIVAZO In the morning, you can visit a processing plant zebu horns and a traditional confectionery . Visit Lake Andraikiba . Lunch and drive to the west of Madagascar , through the chain of mountainous Bongolava . The landscape is gradually transformed to become dry . Check Miandrivazo late afternoon . Proposed hotel « La pirogue » DAY 3 : MIANDRIVAZO – EMBARCADERE – DESCENTE DE LA TSIRIBIHINA Pier Masiakampy transfer . Boat on a barge , beginning the descent. Landscape Menabe : mango , tobacco plantations, Sakalava villages. Entry into the gorge. Bivouac on a large sandbar. DAY 4 : DESCENTE DE LA TSIRIBIHINA Further descent . Stop at a huge waterfall and natural pool . Swimming. Continuation of the descent. Birdwatching : teal , herons, kingfishers, ducks bump. Installing the camp . The possibility of evening entertainment with Sakalava village songs and pods . DAY 5 : DESCENTE DE LA TSIRIBIHINA – BEKOPAKA End of the descent around noon. 4×4 await you in Belo Tsiribihina , about 5 hours of track to reach the village of Bekopaka , starting point for excursions in the Tsingy Bemaraha . Proposed hotel  » Tanankoay  » DAY 6 : THE SMALL TSINGY (Andadoany et Ankeligoa + river Manambolo) Breakfast and departure for excursions on the river Manambolo . Visit the caves and tomb Vazimba . Connections on the small Tsingy and return to the village . Proposed hotel  » Tanankoay  » DAY 7 : THE GREAT TSINGY (Andamozavaky et Ranotsara) Discover the Grand Tsingy Bemaraha which is about an hour drive from Bekopaka . Unique site in the world , you will walk through training Tsingy Many sharp and spectacular panoramas. Return to the village in the late afternoon . Proposed hotel  » Tanankoay  » DAY 8 : BEKOPAKA – MORONDAVA About 8 hours of track to reach Morondava evening. Passage baobab love and stop on the driveway to see the baobab lying sun, then continue to Morondava . Proposed hotel  » Morondava Beach  »
RIVER TRIP ON TSIRIBIHINA – Tsingy of Bemaraha
DAY 1 : ANTANANARIVO / ANTSIRABE
We leave Tana in the morning accompanied by our guide for the next Antsirabe RN 7 through small villages typical house in the highlands red soil and rice terraces . Stop in the small town of Ambatolampy , visit a craft workshop foundry . Lunch then drive to Antsirabe, Madagascar Vichy spa town center of Malagasy handicrafts . Opportunity to visit a workshop and stone embroidery.
Proposed hotel « Le chambre des voyageur »
DAY 2: ANTSIRABE / MIANDRIVAZO
In the morning, you can visit a processing plant zebu horns and a traditional confectionery . Visit Lake Andraikiba . Lunch and drive to the west of Madagascar , through the chain of mountainous Bongolava .
The landscape is gradually transformed to become dry . Check Miandrivazo late afternoon .
Proposed hotel « La pirogue »
DAY 3 : MIANDRIVAZO – EMBARCADERE – DESCENTE DE LA TSIRIBIHINA
Pier Masiakampy transfer . Boat on a barge , beginning the descent. Landscape Menabe : mango , tobacco plantations, Sakalava villages. Entry into the gorge. Bivouac on a large sandbar.
DAY 4 : DESCENTE DE LA TSIRIBIHINA
Further descent . Stop at a huge waterfall and natural pool . Swimming.
Continuation of the descent. Birdwatching : teal , herons, kingfishers, ducks bump. Installing the camp . The possibility of evening entertainment with Sakalava village songs and pods .
DAY 5 : DESCENTE DE LA TSIRIBIHINA – BEKOPAKA
End of the descent around noon. 4×4 await you in Belo Tsiribihina , about 5 hours of track to reach the village of Bekopaka , starting point for excursions in the Tsingy Bemaraha .
Proposed hotel  » Tanankoay  »
DAY 6 : THE SMALL TSINGY (Andadoany et Ankeligoa + river Manambolo)
Breakfast and departure for excursions on the river Manambolo . Visit the caves and tomb Vazimba . Connections on the small Tsingy and return to the village .
Proposed hotel  » Tanankoay  »
DAY 7 : THE GREAT TSINGY (Andamozavaky et Ranotsara)
Discover the Grand Tsingy Bemaraha which is about an hour drive from Bekopaka . Unique site in the world , you will walk through training Tsingy Many sharp and spectacular panoramas. Return to the village in the late afternoon .
Proposed hotel  » Tanankoay  »
DAY 8 : BEKOPAKA – MORONDAVA
About 8 hours of track to reach Morondava evening. Passage baobab love and stop on the driveway to see the baobab lying sun, then continue to Morondava .
Proposed hotel  » Morondava Beach  »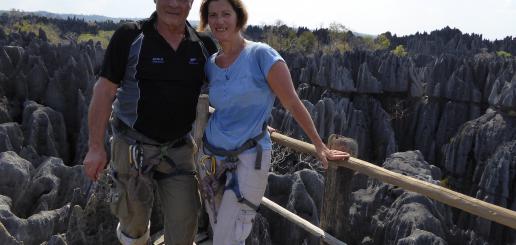 Personnalized experiences
A local guide
On-demand quotation