Detail Itinerary: AM08.30: Local guide will meet you at the lobby and drive to local restaurant for breakfast by motobike taxi. We start the day with the traditional breakfast of Hanoian: PH? ( rice noodle soup). You can choose PH? BÒ (beef noodle soup) or PH? GÀ (chicken noodle soup) for your favour. 09.30: Have a cup of traditional driff coffee, chatting with local people. 10.30: Continue to visit a Chau Long or Hom Market, where the huge array of products. The market is allway busy with the local shopper buying what the need for daily meals. Everything from fresh tropical fruits, an abundance of fragrant herbs, fresh meats, fresh flowers and even live fish and frogs are sold! Vietnamese cuisine is highly regarded as one of the world's best, but few realize the variations that are found in the cuisine. At the market, sample some of the available dishes for a second snack today 11.30: Enjoy « Banh Cuon » for lunch at local restaurant. Banh Cuon is made of rice powder, that was kept in water for 1 day before becoming a rice liquide. Then the rice liquid would be steamed in a special boild pot and scoll with some chicken egg or pork and mushroom. 12.15: Next place is Banh Goi (Pillar Cake), you will try some deep fried Banh goi or banh ran. Ennjoy cake with a special formula fish sauce and green papaya make a wonderfull tastes. 13.00: Relaxing in a pavement shop, we will try some « Tra chanh » ( Green tea with Ice and lime juice) and Sunflower nuts. 13.30: Take a walk around the Old Quarter to experience the local lives. Have cups of local draft beer before coming back to hotel approximate 15.00
Street food tour – One day become Hanoian
Detail Itinerary:
AM08.30: Local guide will meet you at the lobby and drive to local restaurant for breakfast by motobike taxi. We start the day with the traditional breakfast of Hanoian: PH? ( rice noodle soup). You can choose PH? B? (beef noodle soup) or PH? G? (chicken noodle soup) for your favour.
09.30: Have a cup of traditional driff coffee, chatting with local people.
10.30: Continue to visit a Chau Long or Hom Market, where the huge array of products. The market is allway busy with the local shopper buying what the need for daily meals. Everything from fresh tropical fruits, an abundance of fragrant herbs, fresh meats, fresh flowers and even live fish and frogs are sold! Vietnamese cuisine is highly regarded as one of the world's best, but few realize the variations that are found in the cuisine. At the market, sample some of the available dishes for a second snack today
11.30: Enjoy « Banh Cuon » for lunch at local restaurant. Banh Cuon is made of rice powder, that was kept in water for 1 day before becoming a rice liquide. Then the rice liquid would be steamed in a special boild pot and scoll with some chicken egg or pork and mushroom.
12.15: Next place is Banh Goi (Pillar Cake), you will try some deep fried Banh goi or banh ran. Ennjoy cake with a special formula fish sauce and green papaya make a wonderfull tastes.
13.00: Relaxing in a pavement shop, we will try some « Tra chanh » ( Green tea with Ice and lime juice) and Sunflower nuts.
13.30: Take a walk around the Old Quarter to experience the local lives. Have cups of local draft beer before coming back to hotel approximate 15.00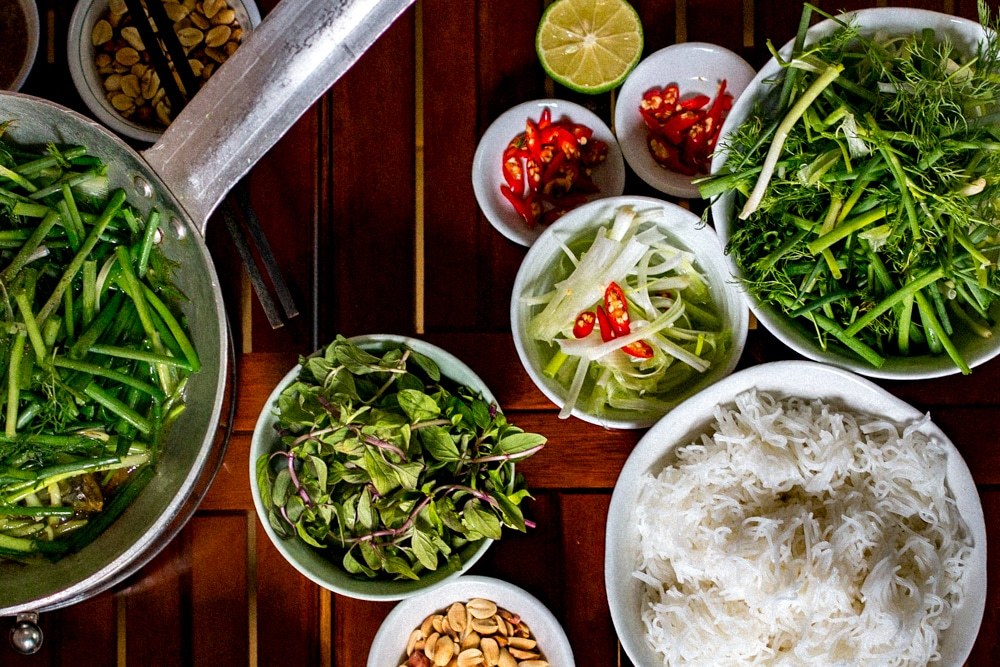 Personnalized experiences
A local guide
On-demand quotation