Jerusalem Jesus Footsteps Tour Israel Daily Group Tours by Compass Travel Israel in English, Spanish, Russian, French, German – including pick up and return service from Tel Aviv, Herzliya, Netanya and Jerusalem. Jerusalem Jesus Footsteps Tour Departure: Tuesdays and Fridays PICK-UP TIME FROM HOTELS: Jerusalem hotels – from 08:30 Herzliya hotels – from 07:00 to 07:15 Tel-Aviv hotels – from 07:15 to 07:30 Netanya hotels – from 06:30 Jerusalem Jesus Footsteps Tour Short description / Itinerary Jerusalem Jesus Footsteps TourWe start our tour with first stop on Mount Olives is the Church of the Ascension. At nearby Pater Noster, a Crusader cloister and grotto commemorating where Jesus preached the Lord's Prayer. Before beginning our walk down Mount Olives we stop for a breathtaking view of Jerusalem, standing above the ancient Jewish cemetery. Halfway down the mount we stop at Dominus Flevit where Jesus wept as he foresaw the destruction of Jerusalem. At the Church of All Nations in the Garden of Gethsemane we recall Jesus praying with the disciples until his betrayal by Judas. Crossing the Kidron Valley we enter the Old City through the Lion's Gate and visit the Pools of Bethesda at the Church of St. Anne, stopping to enjoy the wonderful acoustics in the austere Crusader Church. In the cellars of the convent of the Sisters of Zion we will see a Second Temple water cistern and will marvel at the engravings on the paving stones of the ancient street, the Lithostratos. Return to pick up point. Jerusalem Jesus Footsteps Tour is available on Tuesdays and Fridays in English from Tel Aviv, Herzliya, Netanya and Jerusalem. To book the tour please contact us via mail info@compasstravel.co.il or call +972 58 58 58 553 Recommended for this tour: Comfortable walking shoes, hats. Jerusalem Jesus Footsteps Tour highlights Mount Olives Church of the AscensionJerusalem Jesus Footsteps Tour Pater Noster Dominus Flevit Pools of Bethesda Church of All Nations Garden of Gethsemane Kidron Valley Jeursalem Old City Lion's Gate Church of St. Anne Crusader Church Jerusalem Jesus Footsteps Tour included Hotel Pick up and return service Professional tour guide in your language Transportation – luxury air-conditioned minibus Entry fees according to our itinerary Jerusalem Jesus Footsteps Tour excluded Lunch To book the tour contact us via mail info@compasstravel.co.il
Jerusalem Jesus Footsteps Tour
Jerusalem Jesus Footsteps Tour
Israel Daily Group Tours by Compass Travel Israel in English, Spanish, Russian, French, German – including pick up and return service from Tel Aviv, Herzliya, Netanya and Jerusalem.
Jerusalem Jesus Footsteps Tour
Departure: Tuesdays and Fridays
PICK-UP TIME FROM HOTELS:
Jerusalem hotels – from 08:30
Herzliya hotels – from 07:00 to 07:15
Tel-Aviv hotels – from 07:15 to 07:30
Netanya hotels – from 06:30
Jerusalem Jesus Footsteps Tour
Short description / Itinerary
Jerusalem Jesus Footsteps TourWe start our tour with first stop on Mount Olives is the Church of the Ascension. At nearby Pater Noster, a Crusader cloister and grotto commemorating where Jesus preached the Lord's Prayer. Before beginning our walk down Mount Olives we stop for a breathtaking view of Jerusalem, standing above the ancient Jewish cemetery. Halfway down the mount we stop at Dominus Flevit where Jesus wept as he foresaw the destruction of Jerusalem. At the Church of All Nations in the Garden of Gethsemane we recall Jesus praying with the disciples until his betrayal by Judas. Crossing the Kidron Valley we enter the Old City through the Lion's Gate and visit the Pools of Bethesda at the Church of St. Anne, stopping to enjoy the wonderful acoustics in the austere Crusader Church. In the cellars of the convent of the Sisters of Zion we will see a Second Temple water cistern and will marvel at the engravings on the paving stones of the ancient street, the Lithostratos.
Return to pick up point.
Jerusalem Jesus Footsteps Tour is available on Tuesdays and Fridays in English from Tel Aviv, Herzliya, Netanya and Jerusalem.
To book the tour please contact us via mail info@compasstravel.co.il or call +972 58 58 58 553
Recommended for this tour: Comfortable walking shoes, hats.
Jerusalem Jesus Footsteps Tour highlights
Mount Olives
Church of the AscensionJerusalem Jesus Footsteps Tour
Pater Noster
Dominus Flevit
Pools of Bethesda
Church of All Nations
Garden of Gethsemane
Kidron Valley
Jeursalem Old City
Lion's Gate
Church of St. Anne
Crusader Church
Jerusalem Jesus Footsteps Tour included
Hotel Pick up and return service
Professional tour guide in your language
Transportation – luxury air-conditioned minibus
Entry fees according to our itinerary
Jerusalem Jesus Footsteps Tour excluded
Lunch
To book the tour contact us via mail info@compasstravel.co.il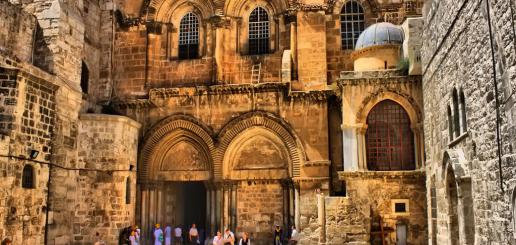 Personnalized experiences
A local guide
On-demand quotation