06:00 a.m. Pick up from your Hotel in Gurgaon / New Delhi, Morning drive to Agra. Journey time 3 Hours, via New Express Highway inclusive all tolls taxes. 09:30 a.m. Meeting the guide on arrival in Agra city ; Proceed to Taj Mahal. Taj Mahal which was built in the 17th century by Emperor Shah Jahan for his beloved wife Mumtaz. (Taj Mahal remain closed for all visitors on Friday) 11:30 a.m. Just after the Taj Mahal ; Excursion to the nearby Agra Fort, built in 1565 A.D another majestic creation by the Mughal Emperor Akbar 01:30 p.m. After Sightseeing Taj Mahal & Agra Fort Sites you will be having lunch Break in AC Restaurant. Sunset Time : Visit Mehtab Bagh another side of river just back side view of Taj Mahal. 03:00 p.m. After exploring fill day, proceed back to Delhi along with the sweet memories of the Taj Mahal Tour. 06:00 p.m. Arrive your Hotel by 06:00 pm or Airport for onward journey
SAME DAY AGRA TOUR BY CAR
06:00 a.m.
Pick up from your Hotel in Gurgaon / New Delhi, Morning drive to Agra. Journey time 3 Hours, via New Express Highway inclusive all tolls taxes.
09:30 a.m.
Meeting the guide on arrival in Agra city ; Proceed to Taj Mahal. Taj Mahal which was built in the 17th century by Emperor Shah Jahan for his beloved wife Mumtaz.
(Taj Mahal remain closed for all visitors on Friday)
11:30 a.m.
Just after the Taj Mahal ; Excursion to the nearby Agra Fort, built in 1565 A.D another majestic creation by the Mughal Emperor Akbar
01:30 p.m.
After Sightseeing Taj Mahal & Agra Fort Sites you will be having lunch Break in AC Restaurant.
Sunset Time : Visit Mehtab Bagh another side of river just back side view of Taj Mahal.
03:00 p.m.
After exploring fill day, proceed back to Delhi along with the sweet memories of the Taj Mahal Tour.
06:00 p.m.
Arrive your Hotel by 06:00 pm or Airport for onward journey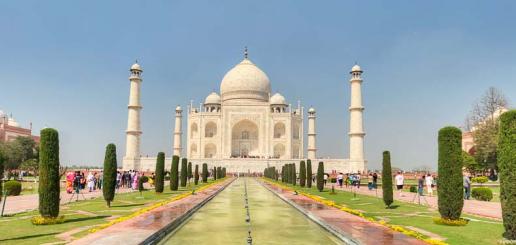 Personnalized experiences
A local guide
On-demand quotation