06:00 Hours – You will be picked up from New Delhi or other desired location in New Delhi and drive to Agra by an A/C vehicle. On Arrival in Agra, our tour guide will meet you then proceed to visit the famous Taj Mahal built by Mughal Emperor Shah Jahan in memory of his wife, Mumtaz Mahal. This monument is made of white marble, and it took 22 years to be built. The Taj Mahal is the epitome of Mughal art and one of the most famous buildings in the world. Yet there have been few serious studies of it and no full analysis of its architecture and meaning. Ebba Koch, an important scholar, has been permitted to take measurements of the complex and has been working on the palaces and gardens of Shah Jahan for thirty years and on the Taj Mahal itself—the tomb of the emperor's wife, Mumtaz Mahal—for a decade. It was built by Mughal Emperor Shah Jahan in 17th century for his beloved wife Mumtaz Mahal. It is also a seventh wonder in the World. (Taj Mahal remain Closed on Friday) Later proceed to Agra Fort, a UNESCO World Heritage Site where you can witness the best view of the Taj Mahal from a little octagonal tower that lies across the Yamuna River. Known also as Lal Qila, Fort Rouge or the Red fort of Agra because of the red-sandstone it was made of, it was the seat of Mughal Empire. The construction started with the orders of Akbar in 1565, Shah Jahan constructed the main buildings and Aurangzeb built up the ramparts. Agra Fort is a UNESCO world heritage located 2km northwest of Taj Mahal. Agra Fort is situated at 94 acres (34 Hectare) land. The monument exhibits Hindu and Islamic architectures. Visit its Hall of Public Audience and its Royal Pavilions. Itmad-Ud-Daulah's Tomb, the monument that is one of most important in Agra is the Tomb of Itmad-ud-Daulah or « Baby Taj » as it is called sometimes. A highly ornate edifice, this mausoleum is considered as the imminent precursor of the Taj Mahal as far as elaborate carvings and inlay work are concerned. Though the structure does not have much to offer architecturally, it makes a clear departure from the earlier Mughal tombs built during the period and is softer and with a lot of inlay carvings. In the end, visit Mehtab Bagh which is an exceptional sunset view of the Taj Mahal. Later you will be dropped back to New Delhi Airport or other desired location in New Delhi
Same Day Private Taj Mahal Tour by Car New Delhi
06:00 Hours – You will be picked up from New Delhi or other desired location in New Delhi and drive to Agra by an A/C vehicle. On Arrival in Agra, our tour guide will meet you then proceed to visit the famous Taj Mahal built by Mughal Emperor Shah Jahan in memory of his wife, Mumtaz Mahal. This monument is made of white marble, and it took 22 years to be built.
The Taj Mahal is the epitome of Mughal art and one of the most famous buildings in the world. Yet there have been few serious studies of it and no full analysis of its architecture and meaning. Ebba Koch, an important scholar, has been permitted to take measurements of the complex and has been working on the palaces and gardens of Shah Jahan for thirty years and on the Taj Mahal itself—the tomb of the emperor's wife, Mumtaz Mahal—for a decade. It was built by Mughal Emperor Shah Jahan in 17th century for his beloved wife Mumtaz Mahal. It is also a seventh wonder in the World.
(Taj Mahal remain Closed on Friday)
Later proceed to Agra Fort, a UNESCO World Heritage Site where you can witness the best view of the Taj Mahal from a little octagonal tower that lies across the Yamuna River. Known also as Lal Qila, Fort Rouge or the Red fort of Agra because of the red-sandstone it was made of, it was the seat of Mughal Empire. The construction started with the orders of Akbar in 1565, Shah Jahan constructed the main buildings and Aurangzeb built up the ramparts. Agra Fort is a UNESCO world heritage located 2km northwest of Taj Mahal. Agra Fort is situated at 94 acres (34 Hectare) land. The monument exhibits Hindu and Islamic architectures.
Visit its Hall of Public Audience and its Royal Pavilions. Itmad-Ud-Daulah's Tomb, the monument that is one of most important in Agra is the Tomb of Itmad-ud-Daulah or « Baby Taj » as it is called sometimes. A highly ornate edifice, this mausoleum is considered as the imminent precursor of the Taj Mahal as far as elaborate carvings and inlay work are concerned. Though the structure does not have much to offer architecturally, it makes a clear departure from the earlier Mughal tombs built during the period and is softer and with a lot of inlay carvings.
In the end, visit Mehtab Bagh which is an exceptional sunset view of the Taj Mahal.
Later you will be dropped back to New Delhi Airport or other desired location in New Delhi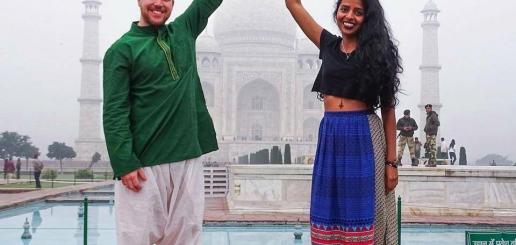 Personnalized experiences
A local guide
On-demand quotation