Day 1 : Arrive New Delhi – Bhangarh Pick up from a central Delhi area/hotel/Airport/railway station & get driven to « Bhangarh ». Everybody would like to take a trip to THE den of the ghosts, « Bhangarh », considered India's « most haunted » place. The lush green grass in the fort and its adjoining area surprises visitors. It did not at all seem like a place in the desert state of Rajasthan. There can be many local tourists who came in groups, mostly youngsters. The dilapidated fort and the ruins welcome you. The Archeological Survey of India has put up a board on the fort gate that it is prohibited for tourists to stay inside the fort area after sunset and before sunrise. Locals say whoever has tried to stay inside after sunset was never found. Standing on the terrace of the Royal Palace one can view the vast expanse of the fort. It has four gates – Lahori Gate, Ajmeri Gate, Phulbari Gate and Delhi Gate. It seems life has come to a standstill in this area. Evening get transferred to Jaipur for an overnight stay. Day 2 : Jaipur Local Sightseeing Morning Sightseeing of Jaipur city. Visit Amer fort, city palace and Jantar Mantar. Jantar Mantar – built in 18th century by Maharaja Sawai Jai Singh II, the huge Masonary instruments were used to study the movement of constellations and stars in the sky. City Palace And S.M.S. II Museum – Situated in the heart of the old City, it occupies about one seventh of the old city area. The palace is a blend of Rajput and Mughal architecture, it houses a Seven storeyed Chandra Mahal in the centre, which affords a fine view of the gardens and the city. 1500 hrs:- Free time will be given to have lunch at your own expense. Later get driven to Delhi and transfer to your hotel/airport/railway station. Tour ends
Ghost City of Bhangarh Tour
Day 1 : Arrive New Delhi – Bhangarh
Pick up from a central Delhi area/hotel/Airport/railway station & get driven to « Bhangarh ». Everybody would like to take a trip to THE den of the ghosts, « Bhangarh », considered India's « most haunted » place. The lush green grass in the fort and its adjoining area surprises visitors. It did not at all seem like a place in the desert state of Rajasthan. There can be many local tourists who came in groups, mostly youngsters. The dilapidated fort and the ruins welcome you.
The Archeological Survey of India has put up a board on the fort gate that it is prohibited for tourists to stay inside the fort area after sunset and before sunrise. Locals say whoever has tried to stay inside after sunset was never found.
Standing on the terrace of the Royal Palace one can view the vast expanse of the fort. It has four gates – Lahori Gate, Ajmeri Gate, Phulbari Gate and Delhi Gate. It seems life has come to a standstill in this area. Evening get transferred to Jaipur for an overnight stay.
Day 2 : Jaipur Local Sightseeing
Morning Sightseeing of Jaipur city. Visit Amer fort, city palace and Jantar Mantar. Jantar Mantar – built in 18th century by Maharaja Sawai Jai Singh II, the huge Masonary instruments were used to study the movement of constellations and stars in the sky.
City Palace And S.M.S. II Museum – Situated in the heart of the old City, it occupies about one seventh of the old city area. The palace is a blend of Rajput and Mughal architecture, it houses a Seven storeyed Chandra Mahal in the centre, which affords a fine view of the gardens and the city.
1500 hrs:- Free time will be given to have lunch at your own expense. Later get driven to Delhi and transfer to your hotel/airport/railway station. Tour ends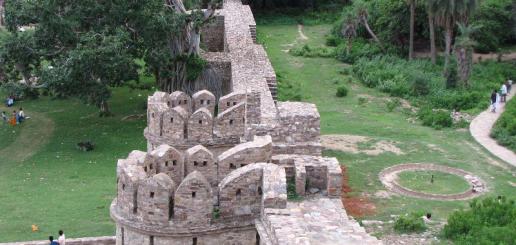 Personnalized experiences
A local guide
On-demand quotation