Detail Itinerary: 09.30: Pick up and transfer to restaurant. You'll be met and greeted by local Chef then going to local market to prepare all requires ingredients for cooking lession. Here you will learn diffirent types of Vietnam ingredient need for a traditional meal. Experient and take some memorable photos for you trip. 10.00: Back to restaurant for Cooking lession. You learn how to make a traditional Spring roll, vegetable salads and formula fish sauce for spring roll. Cooking lunch for yourself. 11.30: Enjoy lunch that cooked by your own. 12.30: Relaxing with tea break 13.00: Transfer back to hotel. Tour end
Halfday cooking class with Hanoian Chef
Detail Itinerary:
09.30: Pick up and transfer to restaurant. You'll be met and greeted by local Chef then going to local market to prepare all requires ingredients for cooking lession. Here you will learn diffirent types of Vietnam ingredient need for a traditional meal. Experient and take some memorable photos for you trip.
10.00: Back to restaurant for Cooking lession. You learn how to make a traditional Spring roll, vegetable salads and formula fish sauce for spring roll. Cooking lunch for yourself.
11.30: Enjoy lunch that cooked by your own.
12.30: Relaxing with tea break
13.00: Transfer back to hotel. Tour end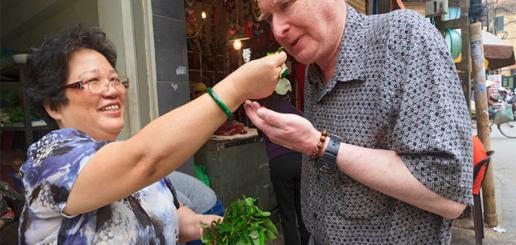 Personnalized experiences
A local guide
On-demand quotation