Detail Itinerary: 08.00: Car and Local guide pick you up at your hotel or our office then depart for Ninh Binh province. 10.30: Arrive Ninh Binh province, take a sampan trip to visit Thung Nang (Sunshine) valley, a non- touristic and untouch tourist site. The sampan trip is about 2 hours, you can enjoy the beautifull sightseeing with paddy fields, picturesque mountains or see the fishing life of local people. 12.30: We will process to visit Bich dong pagoda, a unique and ancient pagoda built in a cave with three diffirent levels. Understanding about Budhism religion in Vietnam and local workship custom. Enjoy lunch at local restaurant. PM: A short biking through the village to visit Hoa lu ancient citadel, the former capital of Vietnam before it was moved to Hanoi. Visit 2 ancient temples dedicated to Emperor Dinh Tien Hoang and Emperor Le Dai Hanh, The founder of Dinh and Le dynasty in 10th century. The temples is cover an area of 3 square kilometters. Drive back to Hanoi at about 17.00. End of tour
Hoa lu – Bich dong pagoda – Trang an cave 1 day
Detail Itinerary:
08.00: Car and Local guide pick you up at your hotel or our office then depart for Ninh Binh province.
10.30: Arrive Ninh Binh province, take a sampan trip to visit Thung Nang (Sunshine) valley, a non- touristic and untouch tourist site. The sampan trip is about 2 hours, you can enjoy the beautifull sightseeing with paddy fields, picturesque mountains or see the fishing life of local people.
12.30: We will process to visit Bich dong pagoda, a unique and ancient pagoda built in a cave with three diffirent levels. Understanding about Budhism religion in Vietnam and local workship custom.
Enjoy lunch at local restaurant.
PM: A short biking through the village to visit Hoa lu ancient citadel, the former capital of Vietnam before it was moved to Hanoi. Visit 2 ancient temples dedicated to Emperor Dinh Tien Hoang and Emperor Le Dai Hanh, The founder of Dinh and Le dynasty in 10th century. The temples is cover an area of 3 square kilometters.
Drive back to Hanoi at about 17.00. End of tour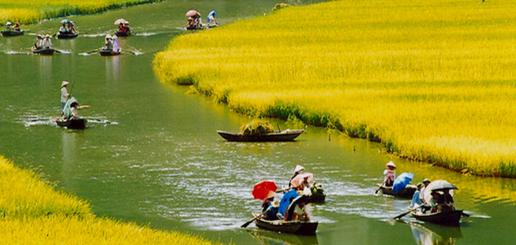 Personnalized experiences
A local guide
On-demand quotation