Private Nomad Camp in Morocco – Undiscovered Morocco's Secret Sahara Desert Camps. Choose your own date Arrive daily, Year round. Our bivouacs are spread throughout the kingdom. While some sites, such as those in the desert of Marrakech or deep in the South in the Sahara , are permanent camps, others are mobile and can be settled upon request in different places. (Pop Up Tents). Celebrate your event with your family or friends in the fertile valleys of southern Morocco scattered with lush palm groves . Amaze your children by discovering the thousand years' old Kasbahs, enjoy for a few hours or a few days a nomadic styled camp in the amazing Atlas Mountains, or in the green or arid plains, and reconnect with Mother Nature for some time in a wild camp on the banks and the sand dunes of the Atlantic Ocean or the Mediterranean Sea. Tailor-made Atlas Mountains & Sahara Desert Camps in Morocco. The possibilities are endless, offering our guests a wide range to travel these beautiful lands. Whether you're a athletic, aesthetic, adventurer or a great comfort addict, we know, by listening, how to identify and customize your stay. And you will come back home with unforgettable memories of trekking the Sahara. Price Includes: Lodging at charming private camp/nomad-style)- All transportation, including recent-model sedan or minivan with air conditioning, private English-speaking driver, and fuel- Government-certified tour guides in major cities- Entrance fee to monuments and sightseeing – All M eals |Breakfast daily | Lunches |dinners. – All applicable taxes. Not included: – Air fare – Travel insurance – Drinks – Personal needs expenditures – Gratuiti
Morocco's Luxury Secret Desert Camp
Private Nomad Camp in Morocco – Undiscovered Morocco's Secret Sahara Desert Camps.
Choose your own date Arrive daily, Year round.
Our bivouacs are spread throughout the kingdom.
While some sites, such as those in the desert of Marrakech or deep in the South in the Sahara , are permanent camps, others are mobile and can be settled upon request in different places. (Pop Up Tents).
Celebrate your event with your family or friends in the fertile valleys of southern Morocco scattered with lush palm groves . Amaze your children by discovering the thousand years' old Kasbahs, enjoy for a few hours or a few days a nomadic styled camp in the amazing Atlas Mountains, or in the green or arid plains, and reconnect with Mother Nature for some time in a wild camp on the banks and the sand dunes of the Atlantic Ocean or the Mediterranean Sea.
Tailor-made Atlas Mountains & Sahara Desert Camps in Morocco.
The possibilities are endless, offering our guests a wide range to travel these beautiful lands. Whether you're a athletic, aesthetic, adventurer or a great comfort addict, we know, by listening, how to identify and customize your stay. And you will come back home with unforgettable memories of trekking the Sahara.
Price Includes: Lodging at charming private camp/nomad-style)- All transportation, including recent-model sedan or minivan with air conditioning, private English-speaking driver, and fuel- Government-certified tour guides in major cities- Entrance fee to monuments and sightseeing – All M eals |Breakfast daily | Lunches |dinners. – All applicable taxes.
Not included: – Air fare – Travel insurance – Drinks – Personal needs expenditures – Gratuiti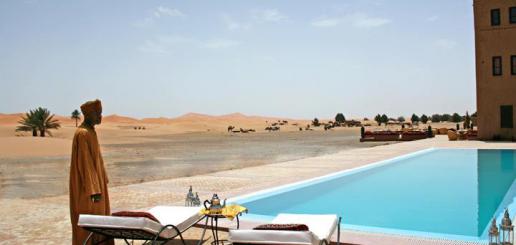 Personnalized experiences
A local guide
On-demand quotation