Petra Jordan Tour Israel Daily Group Tours by Compass Travel Israel in English, Spanish, Russian, French, German – including pick up and return service from Tel Aviv, Herzliya, Netanya and Jerusalem. Petra Jordan Tour from Eilat This tour requires a minimum number of 2 participants Departure: Daily Petra Jordan Tour Short description / Itinerary Petra Jordan Tour Stopping near Prince Hassan Palace for an overview. Arrive at rose rock city of Petra and enter through the Siq where you will see world famed treasury, the tombs and colonnaded street carved into the mountain. View the Roman theater and many rock caves along this narrow canyon. After this visit we will stop for lunch at a local restaurant. If time permits there is the option of a panoramic city tour of Aqaba before returning to Eilat. Itinerary: 07:00 Pick you up from your hotel or from the Airport in Eilat and transfer « Arava » crossing border between Israel and the Kingdom of Jordan. 08:00 « Arava » crossing border issuing visa on arrival to Jordan Please note this process may take some time 09:00 The « Desert way » from the border to Petra along the vast desert highway 11:30 Arrival to Petra, guided tour in the pink heritage city 15:30 Lunch at a local authentic restaurant. 16:30 Drive southwards back to Aqaba through Wadi Rum 18:30 Arrival to Aqaba. if time permits short panoramic tour at the city 19:00 « Arava » border pass, crossing the border back to Israel. 19:30 Drop you off back at your hotel in Eilat or airport *** Schedule is subjected to changes Return to pick up point. Petra Jordan Tour is available on Daily basis in English, Spanish, French, German and Russian from Tel Aviv, Herzliya, Netanya and Jerusalem. To book the tour please contact us via mail info@compasstravel.co.il or call +972 58 58 58 553 Recommended for this tour: Comfortable walking shoes, hats. Important note: Valid Passport required on day of travel 50% cancellation fee for cancellations within 24 hours of departure. No refund on no-show or cancellation less than 24 hours in advance Petra Jordan Tour highlights Prince Hassan Palace Petra Aqaba Petra Jordan Tour included Pick-up and drop-off meeting in Eilat airport or Eilat hotel Assistance at border crossing in both directions Transport Tour guides Entrance fees to Petra for one day tour Lunch Petra Jordan Tour excluded $62 cash for border fees ($46 without the pick up and assistance at the border) must be paid in cash only Personal expenses Personal insurance To book the tour contact us via mail info@compasstravel.co.il
Petra Jordan Tour from Israel
Petra Jordan Tour
Israel Daily Group Tours by Compass Travel Israel in English, Spanish, Russian, French, German – including pick up and return service from Tel Aviv, Herzliya, Netanya and Jerusalem.
Petra Jordan Tour from Eilat
This tour requires a minimum number of 2 participants
Departure: Daily
Petra Jordan Tour
Short description / Itinerary
Petra Jordan Tour
Stopping near Prince Hassan Palace for an overview. Arrive at rose rock city of Petra and enter through the Siq where you will see world famed treasury, the tombs and colonnaded street carved into the mountain. View the Roman theater and many rock caves along this narrow canyon. After this visit we will stop for lunch at a local restaurant. If time permits there is the option of a panoramic city tour of Aqaba before returning to Eilat.
Itinerary:
07:00 Pick you up from your hotel or from the Airport in Eilat and transfer
« Arava » crossing border between Israel and the Kingdom of Jordan.
08:00 « Arava » crossing border issuing visa on arrival to Jordan
Please note this process may take some time
09:00 The « Desert way » from the border to Petra along the vast desert highway
11:30 Arrival to Petra, guided tour in the pink heritage city
15:30 Lunch at a local authentic restaurant.
16:30 Drive southwards back to Aqaba through Wadi Rum
18:30 Arrival to Aqaba. if time permits short panoramic tour at the city
19:00 « Arava » border pass, crossing the border back to Israel.
19:30 Drop you off back at your hotel in Eilat or airport
*** Schedule is subjected to changes
Return to pick up point.
Petra Jordan Tour is available on Daily basis in English, Spanish, French, German and Russian from Tel Aviv, Herzliya, Netanya and Jerusalem.
To book the tour please contact us via mail info@compasstravel.co.il or call +972 58 58 58 553
Recommended for this tour: Comfortable walking shoes, hats.
Important note: Valid Passport required on day of travel
50% cancellation fee for cancellations within 24 hours of departure. No refund on no-show or
cancellation less than 24 hours in advance
Petra Jordan Tour highlights
Prince Hassan Palace
Petra
Aqaba
Petra Jordan Tour included
Pick-up and drop-off meeting in Eilat airport or Eilat hotel
Assistance at border crossing in both directions
Transport
Tour guides
Entrance fees to Petra for one day tour
Lunch
Petra Jordan Tour excluded
$62 cash for border fees ($46 without the pick up and assistance at the border) must be paid in cash only
Personal expenses
Personal insurance
To book the tour contact us via mail info@compasstravel.co.il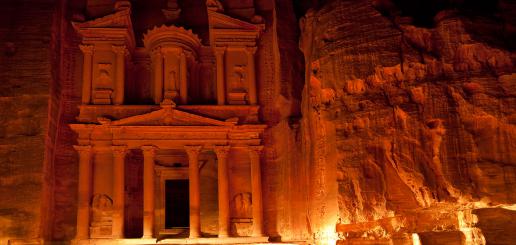 Personnalized experiences
A local guide
On-demand quotation