Ask anyone from around the world to name a site of archaeological significance and most will immediately answer, 'Pompeii!' The site of Pompeii is of unparalleled importance and a trip to the area of Campania for those with even the slightest interest in history, culture, society or archaeology would be incomplete without visiting the town that was buried under a vast layer of burning stone and ash when the volcano they thought dormant, Vesuvius, erupted in AD79. Thanks to this layer of ash, everything was incredibly well-preserved so that visitors today can walk around an intact Roman town, enter houses, temples, amphitheaters and even a brothel, and truly feel what it was like to live in Roman times. The 2 hours tour will allow you to discover the western part of Pompeii where the most important public buildings homes and shops are located. Highlights: the Marina Gate, the Basilica (court house), the Forum (main square) with markets temples and municipal buildings, the Stabian baths, the Lupanar (brothel), the bakery, the house of Menander, The theaters, the plaster casts. and much more
Pompeii walking tour
Ask anyone from around the world to name a site of archaeological significance and most will immediately answer, 'Pompeii!'
The site of Pompeii is of unparalleled importance and a trip to the area of Campania for those with even the slightest interest in history, culture, society or archaeology would be incomplete without visiting the town that was buried under a vast layer of burning stone and ash when the volcano they thought dormant, Vesuvius, erupted in AD79. Thanks to this layer of ash, everything was incredibly well-preserved so that visitors today can walk around an intact Roman town, enter houses, temples, amphitheaters and even a brothel, and truly feel what it was like to live in Roman times.
The 2 hours tour will allow you to discover the western part of Pompeii where the most important public buildings homes and shops are located.
Highlights: the Marina Gate, the Basilica (court house), the Forum (main square) with markets temples and municipal buildings, the Stabian baths, the Lupanar (brothel), the bakery, the house of Menander, The theaters, the plaster casts. and much more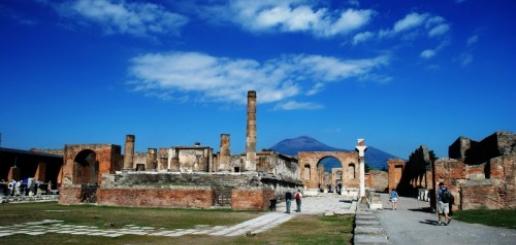 Personnalized experiences
A local guide
On-demand quotation