Stroll through Upper and Lower part of the Old Town to see the main highlights in the Tallinn's Old Town. In the Upper Old Town we will visit Alexander Nevsky's Cathedral and there will be an optional visit to 13th century St.Mary's Cathedral. (entrance fee not included). From the viewing platform we will admire a wonderful view over the rooftops of the Lower Old Town. In the Lower Old Town we will see the wonderful Town Hall Square and the Town Council's Pharmacy, believed to be the oldest still working pharmacy in Europe. We continue our walk to St. Catherine's Passage where shopping opportunities at the local craft workshops (including glass, leather, millinery and ceramic wares) wait for you. We will finish the tour next to the Viru Gates and you can enjoy exploring more of Tallinn by yourself. Tour Duration: 3 Hours Maximum Number of People: 20 Tour Type: Walking Only Tour Price: Price Per Group EUR €120,00 Tour Highlights: Toompea Castle Tall Hermann Tower Alexander Nevsky Cathedral St.Mary's Cathedral Viewing platform The Great Guilde Town Hall Square Town Council's Pharmacy St.Cathrines Passage Viru Gates Tour Inclusions: Private guide 3h Old Town walking tour Tour Exclusions: Entrance Fees
WALKING TOUR OF TALLINN'S OLD TOWN
Stroll through Upper and Lower part of the Old Town to see the main highlights in the Tallinn's Old Town.
In the Upper Old Town we will visit Alexander Nevsky's Cathedral and there will be an optional visit to 13th century St.Mary's Cathedral. (entrance fee not included).
From the viewing platform we will admire a wonderful view over the rooftops of the Lower Old Town.
In the Lower Old Town we will see the wonderful Town Hall Square and the Town Council's Pharmacy, believed to be the oldest still working pharmacy in Europe.
We continue our walk to St. Catherine's Passage where shopping opportunities at the local craft workshops (including glass, leather, millinery and ceramic wares) wait for you.
We will finish the tour next to the Viru Gates and you can enjoy exploring more of Tallinn by yourself.
Tour Duration: 3 Hours
Maximum Number of People: 20
Tour Type: Walking Only
Tour Price: Price Per Group EUR €120,00
Tour Highlights:
Toompea Castle
Tall Hermann Tower
Alexander Nevsky Cathedral
St.Mary's Cathedral
Viewing platform
The Great Guilde
Town Hall Square
Town Council's Pharmacy
St.Cathrines Passage
Viru Gates
Tour Inclusions:
Private guide
3h Old Town walking tour
Tour Exclusions:
Entrance Fees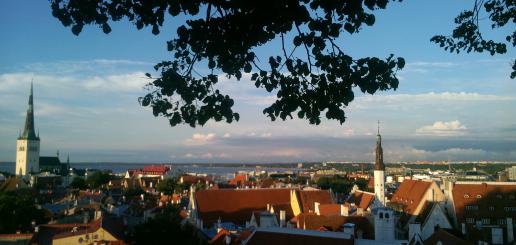 Personnalized experiences
A local guide
On-demand quotation