Egypt White Desert Safari Tours :Find the bestselling Desert tour safari in Egypt we offer you the most recommended Desert tours in Egypt and the most popular holiday packages in Egypt. Our desert adventures in Egypt give you the opportunity to Explore all that Egypt's Desert has to offers. In this adventure you will have a unique mixture between the culture & the Safari by staying 2 nights in Cairo visiting the great pyramids and the Egyptian Museum , old Cairo etc, Facts about Egypt White Desert Safari Tours Give yourself an incredible holiday experiencing the safari life with its marvelous beauty. Wake up every day and have your eyes filled with magic of the wild life at the most protected areas in Egypt such as Baharya oases, the amazing White desert beside visiting the great pyramids of Giza and sphinx Also visit the great Egyptian museum and tutankhamon treasure and old Cairo all of this and more you can enjoy it by booking cheap Egypt white desert packages , the most popular white desert adventures in Egypt highly recommended. This tour is flexible you can changed or add or omit any items or days and we can customize your tour to suite you budget and time. This tour could be run all the year. Egypt White Desert Safari Tourshigh lights Pyramids & the white desert tour Egypt black and white desert tours Egypt western desert jeep safari Egypt sand boarding tour Egypt 4×4 wheel safari Egypt sand dunes In this tour : White desert and black desert Sand boarding in the desert Safari and adventure in the sand dunes Visiting pyramids and sphinx at Giza Cairo tour and Egyptian museum Program in details Day 1: arrive Egypt Upon arrival our assistance will meet and assist you to finish all formalities then you will be transferred to your hotel, overnight at hotel. Day 2: Giza pyramids. and Egyptian museum Breakfast at your hotel in Cairo and then at 09:00 AM you will be met and accompanied by your personal guide to Giza Plateau to visit one of the seven wonders of the ancient world, the Great Pyramids of Cheops,Chefren, Mykerinus, famous Sphinx and Valley temple facing the great statue. Lunch at a good quality local restaurant Then head to the Egyptian Museum, enjoying Treasures room for the child kingTutankhamen. Continue to Coptic Cairo to visit the Hanging Church andBen Ezra Synagogue. Continue driving to Islamic Cairo, where you will be able to explore Khan El Khalili, Cairo's old bazaar. Back to hotel. Overnight in Cairo. Meals: Breakfast, Lunch After that you be transfreed to your hotel over night at Cairo. At night you can enjoy optional sound and Light show at the pyramids upon request. Day 3: Cairo / Bahariya Oasis Breakfast at hotel, check out from your hotel in Cairo at 06:00 AM, met by our representative and then travel by a modern air conditioned vehicle to Bahariya Oasis about 4 hours drive from Cairo. Upon arrival, visit the Museum of Golden Mummies, the Tombs of the Nobles, the AlexanderTemple and the Temple of Meffetla. Then have a trip to the ruin on a hill, "the English House" at sunset enjoying the panoramic view. Overnight in Bahariya. Meals: Breakfast, Lunch, Dinner Day 4: White & Black Desert After breakfast, then move onto the White Desert, passing through the Black Desert, a region of volcano-shaped mountains with large quantities of small black stones, and the Valley of El Haize with its refreshing spring. Stop off to see the quartz crystal at Crystal Mountain and the magnificent Valley of Agabat. Camping in White Desert with a unique chance to enjoy amazing sunset view while your guides cook your dinner. Meals: Breakfast, Lunch, Dinner Day 5: Back to Cairo After breakfast, visit the hot springs and enjoy the beauty of the white limestone rocks in the area. Then start returning to Cairo. In the evening, enjoy an optional dinner cruise on the Nile or paying a visit for watching the Sound and Light spectacular Show of the Giza Pyramids. Overnight in Cairo. Meals: Breakfast Day 6: Final Departure Breakfast with free time at your hotel before checking out at 12:00 PM, then you will be picked you up by our representative and transferred to Cairo international Airport for final departure. Meals: Breakfast . TRIP INFORMATION INCLUDES This tour includes the following services • Meet & assist at Cairo International Airport upon arrival & departure • Accommodation for 3 nights in Cairo at 5-star hotel on bed & breakfast The entrance fees of all visits as mentioned in the program. Transportation in a private air-conditioned bus. English Speaking tour guide. in Cairo . All transfers as mentioned. • Camping equipments like sleeping bags, camel blankets, tents. All Taxes and services are including (no Hidden cost). • Accommodation in Bahariya for 1 night at Oasis Style Hut, on half board Camping equipments like sleeping bags, camel blankets, tents All taxes & service charge www.lookategypttours.com best of Egypt desert tours
White desert tours in Egypt
Egypt White Desert Safari Tours :Find the bestselling Desert tour safari in Egypt we offer you the most recommended Desert tours in Egypt and the most popular holiday packages in Egypt.
Our desert adventures in Egypt give you the opportunity to Explore all that Egypt's Desert has to offers.
In this adventure you will have a unique mixture between the culture & the Safari by staying 2 nights in Cairo visiting the great pyramids and the Egyptian Museum , old Cairo etc,
Facts about Egypt White Desert Safari Tours
Give yourself an incredible holiday experiencing the safari life with its marvelous beauty. Wake up every day and have your eyes filled with magic of the wild life at the most protected areas in Egypt such as Baharya oases, the amazing White desert beside visiting the great pyramids of Giza and sphinx Also visit the great Egyptian museum and tutankhamon treasure and old Cairo all of this and more you can enjoy it by booking
cheap Egypt white desert packages , the most popular white desert adventures in Egypt highly recommended.
This tour is flexible you can changed or add or omit any items or days and we can customize your tour to suite you budget and time.
This tour could be run all the year.
Egypt White Desert Safari Tourshigh lights
Pyramids & the white desert tour
Egypt black and white desert tours
Egypt western desert jeep safari
Egypt sand boarding tour
Egypt 4×4 wheel safari
Egypt sand dunes
In this tour :
White desert and black desert
Sand boarding in the desert
Safari and adventure in the sand dunes
Visiting pyramids and sphinx at Giza
Cairo tour and Egyptian museum
Program in details
Day 1: arrive Egypt
Upon arrival our assistance will meet and assist you to finish all formalities then you will be transferred to your hotel, overnight at hotel.
Day 2: Giza pyramids. and Egyptian museum
Breakfast at your hotel in Cairo and then at 09:00 AM you will be met and accompanied by your personal guide to Giza Plateau to visit one of the seven wonders of the ancient world, the Great Pyramids of Cheops,Chefren, Mykerinus, famous Sphinx and Valley temple facing the great statue. Lunch at a good quality local restaurant
Then head to the Egyptian Museum, enjoying Treasures room for the child kingTutankhamen. Continue to Coptic Cairo to visit the Hanging Church andBen Ezra Synagogue. Continue driving to Islamic Cairo, where you will be able to explore Khan El Khalili, Cairo's old bazaar. Back to hotel. Overnight in Cairo.
Meals: Breakfast, Lunch
After that you be transfreed to your hotel over night at Cairo.
At night you can enjoy optional sound and Light show at the pyramids upon request.
Day 3: Cairo / Bahariya Oasis
Breakfast at hotel, check out from your hotel in Cairo at 06:00 AM, met by our representative and then travel by a modern air conditioned vehicle to Bahariya Oasis about 4 hours drive from Cairo. Upon arrival, visit the Museum of Golden Mummies, the Tombs of the Nobles, the AlexanderTemple and the Temple of Meffetla. Then have a trip to the ruin on a hill, "the English House" at sunset enjoying the panoramic view. Overnight in Bahariya.
Meals: Breakfast, Lunch, Dinner
Day 4: White & Black Desert
After breakfast, then move onto the White Desert, passing through the Black Desert, a region of volcano-shaped mountains with large quantities of small black stones, and the Valley of El Haize with its refreshing spring. Stop off to see the quartz crystal at Crystal Mountain and the magnificent Valley of Agabat. Camping in White Desert with a unique chance to enjoy amazing sunset view while your guides cook your dinner.
Meals: Breakfast, Lunch, Dinner
Day 5: Back to Cairo
After breakfast, visit the hot springs and enjoy the beauty of the white limestone rocks in the area. Then start returning to Cairo. In the evening, enjoy an optional dinner cruise on the Nile or paying a visit for watching the Sound and Light spectacular Show of the Giza Pyramids. Overnight in Cairo.
Meals: Breakfast
Day 6: Final Departure
Breakfast with free time at your hotel before checking out at 12:00 PM, then you will be picked you up by our representative and transferred to Cairo international Airport for final departure.
Meals: Breakfast
.
TRIP INFORMATION
INCLUDES
This tour includes the following services
• Meet & assist at Cairo International Airport upon arrival & departure
• Accommodation for 3 nights in Cairo at 5-star hotel on bed & breakfast
The entrance fees of all visits as mentioned in the program.
Transportation in a private air-conditioned bus.
English Speaking tour guide. in Cairo .
All transfers as mentioned.
• Camping equipments like sleeping bags, camel blankets, tents.
All Taxes and services are including (no Hidden cost).
• Accommodation in Bahariya for 1 night at Oasis Style Hut, on half board
Camping equipments like sleeping bags, camel blankets, tents
All taxes & service charge
www.lookategypttours.com
best of Egypt desert tours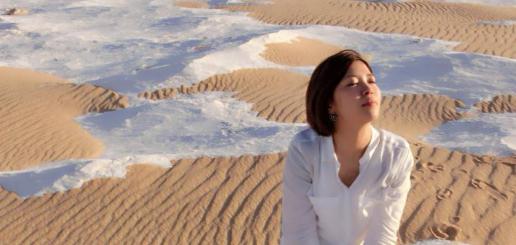 Personnalized experiences
A local guide
On-demand quotation